---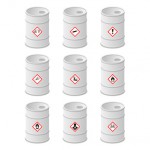 Special Express provides a comprehensive service for clients wishing to ship regulated products.
Our experienced ICAO/IATA qualified staff have an established track record in servicing clients in the pharmaceutical, medical research and manufacturing sectors.
We can provide a comprehensive delivery solution which includes handling, packing the materials, storing, forwarding and liaison with the appropriate regulatory authorities. At Special Express, clients can have the peace of mind that comes from knowing that their shipment is in the care of dedicated professionals who are aware of the importance of complying with increasingly complex international regulations.
Prior to any hand-over to the airline your shipment will be thoroughly controlled with our "check-sheet" procedure as to the corresponding documents, packaging and correct labeling.
Of course we can deliver your dangerous goods "door-to-door" on an international scale.
At Special Express we have the facilities to ship the following classes of dangerous goods:
Class 1. Explosives
Class 2. Gases
Class 3. Flammable liquids
Class 4. Flammable solids
Class 5. Oxidising substances
Class 6. Toxic solids including infectious materials
Class 7. Radioactive materials
Class 8. Corrosive substances
Calss 9. Miscellaneous dangerous goods